Philosophy
Structured Analysis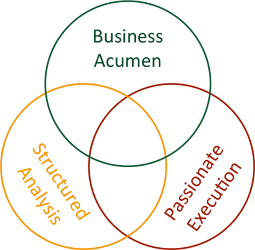 We have the tools and methodologies for problem scoping, applying deductive reasoning and finding solutions.
Business Acumen
Unlike many formally qualified consultants, we also possess extensive business experience. Our skills and knowledge help us to pragmatically recognize patterns and generate ideas. Our intuition based on experience enables us to achieve superior results faster.
Passionate Execution
Unlike typical business advisors, we do not stop with the analysis of a problem or solution. We support our clients in developing implementation initiatives and accomplishing their goals with passion.